News
Geographic Services is growing rapidly, both in size as well as technologies and services. Keep current with all that is happening with GSI in the news.

---
GSI Awarded New Contract - GSA and NGA Award Contracts for 'Earth Observation' Technologies

The General Services Administration announced Tuesday, February 12, 2019 that it has teamed up with the National Geospatial-Intelligence Agency to award a number of blanket purchase agreements (BPAs) for "earth observation" products, services and tools with a contract value at $225 million.
The awards will fall under the earth observation special item number (SIN) on GSA's IT Schedule 70 government-wide contract. SINs are specialized subcategories within GSA's acquisition schedules that make it easier for buyers and sellers to navigate the often broad contracts.
Awards have been made to: Carahsoft Technology Corp., Digitalglobe Intelligence Solutions, Inc, General Dynamics Information Technology, Inc., Geographic Services, Inc., Harris Corporation, Hexagon US Federal, Inc., Leidos, Inc., MDA Information Systems LLC, Observera, Inc., Sanborn Map Company, and Wiser Imagery Services LLC.
These selected companies are now part of GSA's "one-stop-shop" for products or services in the geospatial intelligence space and will be able to sell to agencies across the federal government. Collectively, they will provide things like sensor data, advanced analytics, machine learning, predictive analysis and more to customer agencies.
Using a BPA, instead of another contract vehicle, simplifies and speeds up the acquisition process for agencies. Per GSA, the government has a "growing need" for earth observation technologies like satellite imagery, communication, analytics and more, and thus a growing need to have easy access to this kind of tech.
"The commercial earth observation industry has experienced accelerated growth and we're very pleased to position our offerings to provide the latest in emerging technology and solutions while making it easier for our government customers to reach these companies," Bill Zielinski, GSA's acting assistant commissioner for the Office of Information Technology, said in a statement.
The earth observation SIN, organized under IT Schedule 70, was created in partnership with NGA in summer 2017. It's a key part of NGA's Commercial Initiative to Buy Operationally Responsive GEOINT, an initiative with the truly fantastic acronym CIBORG.
IT Schedule 70's SIN for Earth Observation Solutions includes:
Advanced data analytics;
Change detection;
Crowdsourcing;
Delivery to ground and mobile ground terminals;
Direct access service to cell phones, ships, aircraft;
Geospatial products and services;
Imagery;
Machine learning;
Mosaics;
Predictive analytics;
Remote sensing and analytical software products;
Sensor data includes:

Electro-optical;
Synthetic aperture radar (SAR);
Hyperspectral;
Geomagnetic field, gravity field;
Thermal;
Sonar;
Other current and emerging technologies; and

Other products and services relevant to Earth Observation Solutions.
---
GSI's Human Geography team was recognized by General Brown and CENTCOM for our contribution to the SMA reach back efforts.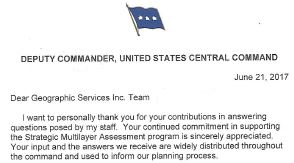 Read More
---
GSI DataFlex® is now available on the GEOINT App Store benefiting NSG, ASG, Department of Defense and Intelligence Community personnel.
Download from the GEOINT App Store:


---
GSI Approved IGAPP Vendor
Geographic Services, Inc. is an approved Innovative GEOINT Application Provider Program (IGAPP) vendor (effective 8/18/17). IGAPP connects app solutions to government customers, providing access to data and tools, and placing GEOINT directly into the hands of the users.

---
THE STATE AND FUTURE OF GEOINT 2017

USGIF changed the name of the State of GEOINT Report to "The State and Future of GEOINT." GSI contributed to The Shifting Landscape: the Relationship of GEOINT and Human Geography located on page 32. Download the full report below.

Download Report
---
GSl Wins $25 Million NGA GDS Award


In 2013, The National Geospatial Intelligence Agency (NGA) awarded Geographic Services, Incorporated (GSI) a five-year, maximum $25 million contract to produce geographic names and boundaries for the US Federal Government. The Geographic Names and Boundaries (GB) contract is the first award in a series of contracts to produce geospatial intelligence data for the US Government under NGA's GEOINT Data Services Program. The GB contract is a firm fixed price, indefinite delivery/indefinite quantity contract to populate NGA's GEOnet Names Server Database, which is the official repository of foreign place names approved by the US Board on Geographic Names (BGN). The contract also calls for open source research and data integration in support of geographic names production as well as maintaining current boundary information for the US Government's Digital International Boundaries Database. Lastly, the contract charges GSI with exploiting technological advances to develop new and emerging products, data, and services. As stated in the solicitation notice, the contract is to produce "the highest quality data, products, and information through the use of quality management activity with continual innovative processes."
---
GSI is Awarded a New Patent
McLean, Virginia - October 11, 2011 - Geographic Services, Inc. a leading provider of geospatial, linguistics and socio-cultural data solutions, today announced that it was granted a new patent by the United States patent and Trademark Office: U.S. Patent # 8,015,196, GEOGRAPHIC FEATURE NAME SEARCH SYSTEM.
This patent, describes a method for performing intelligent searches for geographic names and other data utilizing a combined fuzzy-logic/phonetic search as well as linguistic principles and allowing the user to select various search criteria is disclosed.
This is GSI's first issued patented on phonetic normalization. It allows normalization of words and phrases for search and discovery in foreign languages. In short, phonetic normalization is the breaking down of words or phrases into phonetic parts to allow searches against lists of words or phrases that have similar phonetic structures. It allows a "fuzzy" search that bypasses spelling inconsistencies. It is especially useful for languages with non-Roman alphabets where transliteration into Roman script introduces spelling ambiguity. The patent is incorporated into GSI's DataFlex® tool.
"This patented technology will simplify search and discovery for names both English and non-English text eliminating the need for spelling accuracy or language expertise," said Keyvan Rafei, GSI's President & CEO.
Events
Learn more about our new technologies and services and how our capabilities can serve your needs. Visit us at trade shows and events held throughout the year.
---
April 3-4, 2018
Dr. Gwyneth Sutherlin will participate in the 11th Annual Strategic Multilayer Assessment (SMA) Conference on April 3rd and 4th at the Jacob E. Smart Conference Center at Joint Base Andrews (JBA), Maryland. The conference theme is "A Utopian or Dystopian Future, or Merely Muddling Through?"
---
December 13, 2017
The SMA DHS NCTC CENTCOM START hosted a panel discussion at the Pentagon titled "Exploitation of Technology: Technological Advances and Terrorism Adaptation Potential" on Wednesday 13 December at 1000 ET. Dr. Gwyneth Sutherlin discussed the potential applications of Human Geography data to machine learning.
---
October 11, 2017
Public Workshop on Changing Socio-cultural Dynamics and Implications for National Security
GSI's Director of HG and Analytic Research is invited to speak at the upcoming workshop series. The Board on Behavioral, Cognitive, and Sensory Sciences (BBCSS) is currently engaged in the first ever decadal survey titled, The Social and Behavioral Sciences for National Security: A Decadal Survey (SBS Decadal Survey), which has been funded by the Office of the Director of National Intelligence (ODNI). The committee will conduct the 24-month long decadal survey aimed at identifying opportunities that are poised to contribute significantly to the Intelligence Community's (IC) analytic responsibilities. The study will identify opportunities throughout the social sciences (e.g., sociology, demography, political science, economics, anthropology) and from behavioral sciences (e.g. psychology, cognition, neuroscience).
---
September 28, 2017
GSI invited to speak about data visualization at the upcoming WWHGD event "Putting Human Geography on the Map." The National Geospatial-Intelligence Agency (NGA) and the U.S. Department of State, the World-Wide Human Geography Data (WWHGD) Working Group, is holding an event at the U.S. Geological Survey in Reston, Virginia on 28 September entitled "Putting Human Geography on the Map". The event is focused on how organizations and people describe what they want to know about why people do, what they do and where they do it (Human Geography). The event will bring together executive decision makers, on-the-ground leaders and analyst staff that use Human Geography information for Policy-Making, Disaster Response, Capacity Building, Economic Development and Sustainability.
---
August 21-23, 2017
"Orienteering in the Information Environment" After Information was made a Joint Function, JIOWC held a CBA workshop to discuss JCOIE. Dr. Sutherlin spoke about visualization in the IE. GSI's experience in socio-cultural data and technology solutions was a foundation for navigating the communications and network analysis that span cultural frameworks.
---
July 12, 2017
Dr. Gwyneth Sutherlin, Director of Human Geography Analytics and Research, will present "Understanding Human Geography" at the 2017 Esri User Conference. The presentation will be part of the Intelligence Analysis Session on Wednesday, July 12th, 2017, from 1:30 pm – 2:45 pm in the Omni Ballroom at the San Diego Convention Center.

---
June 8, 2017
The J-39 Joint Chief of Staff Office is hosting a virtual panel discussion SMA Key Role of Human Geography and Effective Communication on June 8, 2017 at 1400ET. Dr. Gwyneth Sutherlin and multiple other authors will discuss their Human Geography White Paper.

---
June 4-7, 2017

Geographic Services, Inc. will be exhibiting at the 2017 GEOINT Symposium, Booth 1566, at the Henry B. Gonzalez Convention Center, San Antonio, TX on June 4 - 7, 2017.
---
April 27, 2017

Dr. Sutherlin will participate in the CENTCOM reach back panel at Pentagon Crystal City April 27, 2017 to discuss the results of SMA virtual think tank support.
---
April 20, 2017

Dr. Sutherlin will participate in the BAHMCE Symposium in Tampa, FL on April 20, 2017 as a Technical Subject matter Expert for Human Machine Interface / Human Machine Co-Evolution along with panel members representing SOF and futurist perspectives.
---
April 4, 2017

Dr. Sutherlin will speak to the USASOC Futures Forum April 4, 2017 on "Individuals of Significance: Russian Elites use case to discuss assertions & assumptions inside the black box of data analytics."
---
February 13-14, 2017

Geographic Services will be exhibiting at the Esri FedGIS Conference, Booth 700, at the Walter E. Washington Convention Center, Washington, DC on February 13-14, 2017.